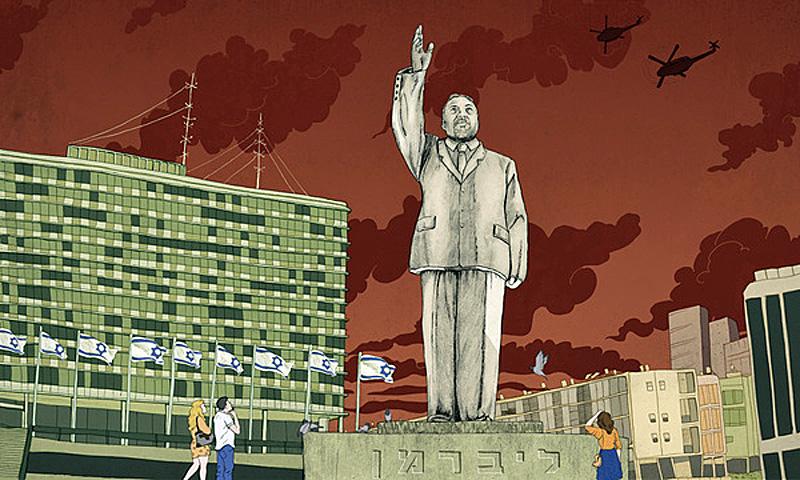 Translation / Interpretation / Caption Text
Title: Blind LoyaltyInspiration:
On April 2009 the "Israel Beiteinu" (Israel Is Our Home) party presented a legislative bill that came to be called the "Loyalty Law." According to the bill, receiving Israeli citizenship should be dependent on agreeing to and signing a declaration of "loyalty to the state of Israel as a Jewish, Zionist and democratic state, to its symbols and values respectively." The bill obligates every citizen to serve in the Israeli military or in the ranks of alternative organizations, and authorizes the Minister of Internal Affairs to revoke the citizenship of anyone refusing to sign or to serve the country according to the aforementioned declaration.______________________This [series] is my senior project in visual communication studies in Holon Institute of Technology (HIT) instructed by Judith Asher.
This project criticizes my country's current government's anti-democratic direction in the past two years. It is a series of illustrations that show an apocalyptic future scenario, in order to provoke and raise questions among Israelis about the direction the country is going. The text under each drawing is an example of something that has happened recently, that demonstrates the project's message.Sivan Hurwitz
Analysis / Interpretation / Press
The totalitarian-realist style statue shows Avigdor Liberman, head of Yisrael Beiteinu and current Foreign Minister. The statue is placed in Rabin Square, the place where Yitzhak Rabin was assassinated in 1995. The building in the background is the Tel Aviv Municipality, which was designed in the 1970s Brutalist style of architecture.
Source:http://lisagoldman.net/2010/09/10/an-israeli-artist-visualizes-her-count...
Artist / Designer / Photographer
Status / Acquisition Goals
The PPPA has only the low resolution digital version of this poster featured