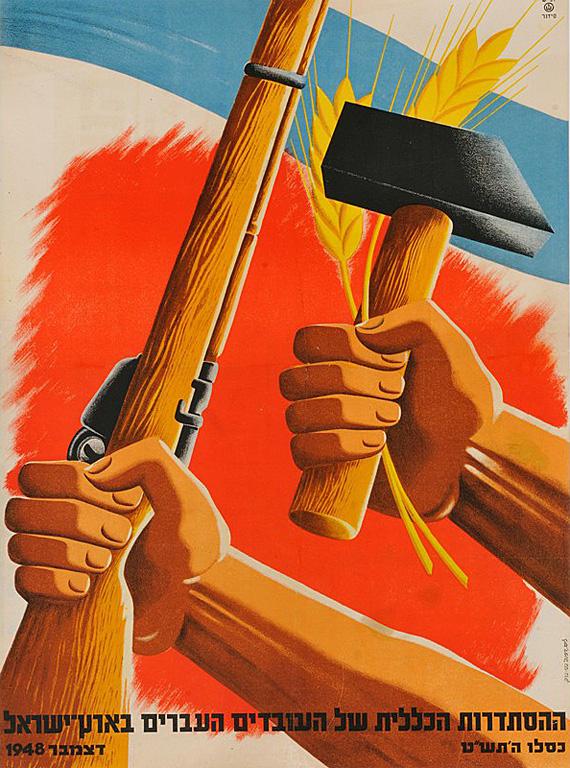 Translation / Interpretation / Caption Text
From the Bernard Museum of Judaica - Justify Your Existence exhibit catalog:
The Histadrut
Otte Wallish and Rudolph Sidner
Israel, 1948
The General Federation of Laborers in the Land of Israel, known simply as the Histadrut (federation), was established in 1920, driven in large part by a new wave of Russian and Eastern European immigrants with strong roots in socialist ideology. Despite the failure of earlier attempts to unify workers' organizations, the Histadrut quickly became one of the most powerful economic and political institutions in British Mandatory Palestine. By 1927, more than three quarters of the Jewish workforce were members of the Histadrut.
After independence, the Histadrut became one of the most powerful institutions in the State of Israel and a mainstay of the Labor Zionist movement. In addition to its role as a trade union, its state-building efforts made it the owner of a number of businesses and factories and, for a time, the largest employer in the country.
Translation from Hebrew: General Federation of Hebrew Workers in the Land of Israel. December 1948 / Kislev 5709.
Artist / Designer / Photographer
Status / Acquisition Goals
The PPPA has only the low resolution digital version of this poster featured