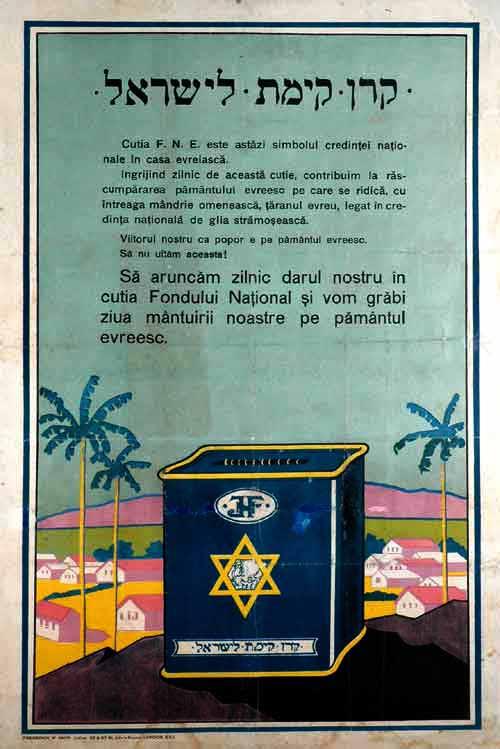 Translation / Interpretation / Caption Text
Romanian translation: Put something daily in our gift box and the National Fund will speed up the day of salvation on our Jewish soil.
_______________________________
The Development of the Modern Israeli Land Law Regime
Two important measures were adopted in the early 1960s to ensure that Israeli state land would in practice become the preserve of Israel's Jewish population. Firstly, the Basic Law: Israel Lands was enacted in 1960. It defined land owned by the Development Authority, the State of Israel and the JNF as "Israel Lands" and provided that such land could not be sold. Minister Zerah Wahrhaftig explained the purpose of the law: "We want to make it clear that the land of Israel belongs to the people resident in Zion, because the people of Israel live throughout the world. On the other hand, every law that is passed is for the benefit of all the residents of the state, and all the residents of the state include also people who do not belong to the people of Israel, the worldwide people of Israel." When asked why this was not stated explicitly in the law, Wahrhaftig responded, "we cannot express this." He further explained, 'there is [in the law] a very significant legal innovation: we are giving legal garb to the Memorandum of Association of the JNF."
Secondly, a covenant was agreed between the Israeli government and the JNF providing that the latter would be given nearly 50% representation on the Israel Lands Council (ILC). The ILC was established by the Israel Lands Administration Law, 1960, and given broad powers to make policies in relation to "Israel Lands." That law also established the Israel Lands Administration (ILA) to implement these policies. According to a report of the Israeli state comptroller, participation of government representatives at ILC board meetings has been minimal compared to that of the JNF representatives. Hardly surprising, therefore, is the ILA's discrimination against the Palestinian population in Israel.
Source: Mondoweiss
http://mondoweiss.net/2013/03/historical-israeli-planning.html
Artist / Designer / Photographer
Status / Acquisition Goals
The PPPA seeks a better JPEG of this poster
The PPPA has only the low resolution digital version of this poster featured
The PPPA seeks more information on this artist/poster/graphic/publisher