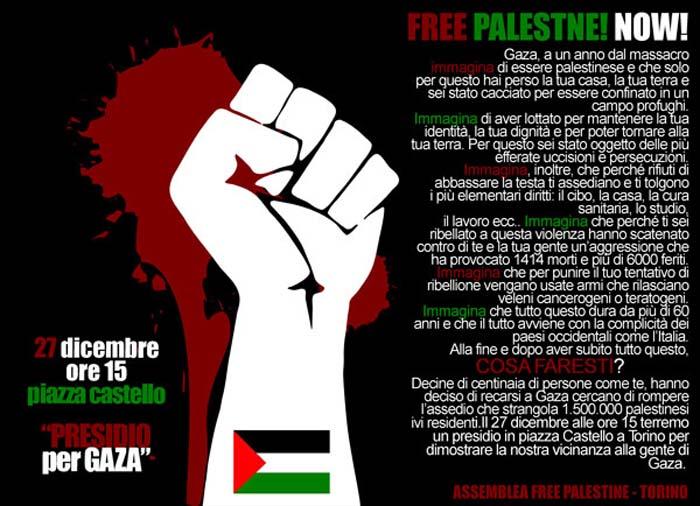 Translation / Interpretation / Caption Text
Italian translation: Gaza, one year after the massacre -
Imagine being a Palestinian and because of that you have lost your home, your land and that you have been chased away and relegated into a refugee camp.
Imagine that you have fought for keeping your identity, your dignity and the right to return to your land. Due to this you have been subjected to the most barbarian killings and persecutions.
Imagine that also because you refuse to bow your head down they besiege you and they take away your most elementary rights: food, home, health service, study, job etc…
Imagine that because you rise up against such violence they attack you and your people causing 1,414 dead and over 6,000 injured.
Imagine that in order to punish your rebellion, they use weapons that release carcinogenic and teratogenic substances.
Imagine that all this is going on over 60 years and that all this happens with the complicity of the West - countries like Italy.
What would you do at the end and after all this suffering?
Tens of hundreds of people like you have decided to go to Gaza. They are trying to break the siege that strangles 1,500,000 Palestinians living there. On Dec. 27th at 3 p.m. we will hold a presidium (demonstration) in Piazza Castello in Turin to show our sympathy for the people of Gaza.
Artist / Designer / Photographer
Status / Acquisition Goals
The PPPA has only the low resolution digital version of this poster featured