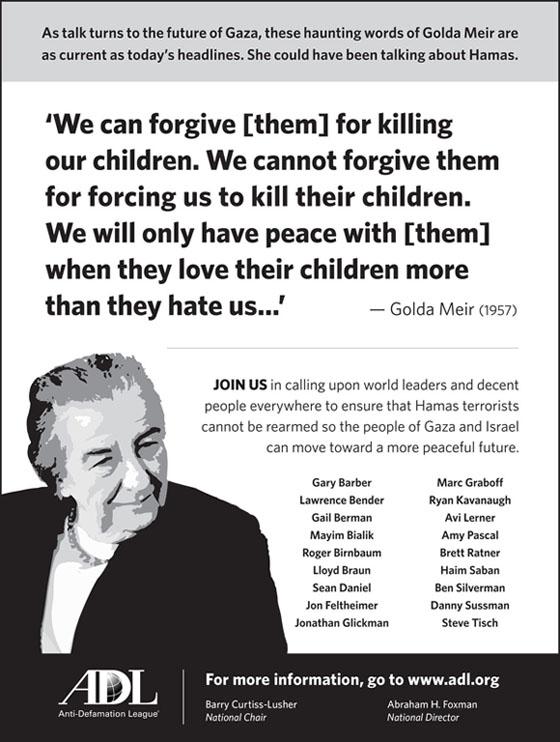 Translation / Interpretation / Caption Text
Playwright and actor Wallace Shawn:
Over the decades, I've done quite a bit of work as a translator from various languages, and sometimes when I get home from work, I just can't stop. Yesterday, for example, I saw an ad in The Hollywood Reporter. It was in English, but its meaning was not immediately obvious at all, so I felt an overwhelming impulse to translate it.
The ad featured a statement that former Israeli Prime Minister Golda Meir had made in the 1950s about "the Arabs," but the ad (which leaves out the words "the Arabs") suggests that "her haunting words" are "as current as today's headlines. She could have been talking about Hamas." The quotation, as it appears in the ad, is as follows: "We can forgive [them] for killing our children. We cannot forgive them from forcing us to kill their children. We will only have peace with [them] when they love their children more than they hate us."
My quick personal translation of this would be: "When we kill the children of Arabs, the Arabs made us do it. They hate us so much, they are so angry, that they do things that enrage us and make us kill children. If they were decent people who loved their children, they would set aside their hatred and stop provoking us, and we would then stop killing the children."
Sometimes a translator feels compelled to argue with the text he's just translated, particularly when, as in the case of this ad, one is confronted by a photograph of the author that makes one vividly feel her presence. In this case, I can only say that despite her wise and thoughtful and grandmotherly face, Golda Meir can be interpreted as saying here that she plans to kill the children of Arabs up until the moment when, in her sole judgment, the Arabs stop feeling "hate" and become sufficiently unprovoking and pacified.
Applying her remarks to the present day, as the signers of the ad suggest we should do, the ad seems fundamentally to be saying that it ought to be up to the current prime minister, Benjamin Netanyahu, to decide when the current killing ought to stop. I have to say, I feel that this ad, directed to members of the show business community, perhaps especially to Jewish members of the show business community such as myself, takes as its premise a false view both of history and of the present situation.
The broad outlines of the terrible history of the Jewish people over the centuries is relatively well-known to many of us. But unfortunately, many members of the show business community are not very aware of the tragic history of the Palestinian people. And yet the fact is that in my own lifetime (I was born in 1943) the Palestinian people have been expelled from their land and subjected to unceasing and unjustifiable torment, including a brutal occupation and, in Gaza, a regime in which an entire population has been placed on a starvation diet.
Anyone who learns more about what has happened can't help but realize that the anger of the Palestinians cannot be ended by killing their children. That is a fantasy. Human beings simply aren't made that way.
Source: Electronic Intifada
Status / Acquisition Goals
The PPPA has only the low resolution digital version of this poster featured