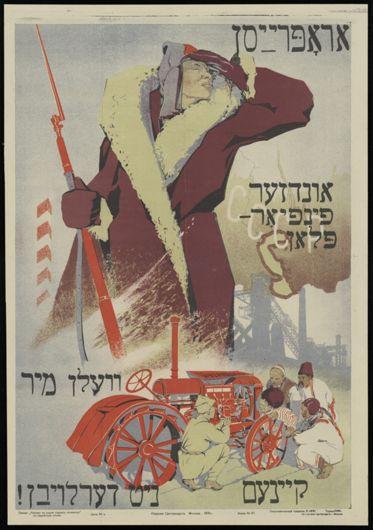 Translation / Interpretation / Caption Text
Yiddish translation:
We won't let anyone wreck the Five-Year Plan!
This poster depicts a Red Army mechanic teaching a group of USSR ethnic minorities, dressed in folk costumes (Ukrainian, Far Eastern, Central Asian, Kazakh), the workings of the tractor motor. The group is set against the background of a vigilant Red Army soldier protecting the Soviet border, marked by a striped red and white post.
Background also includes industrial plant and a fragment of the USSR map showing the Volga River, Caspian Sea, and Ural Mountains.
A part of propaganda campaign rallying support for the First Five-Year Plan, 1928-1932, aimed at industrial revolution in the USSR.
Source:
Blavatnik Archive
Artist / Designer / Photographer
Status / Acquisition Goals
The PPPA has only the low resolution digital version of this poster featured