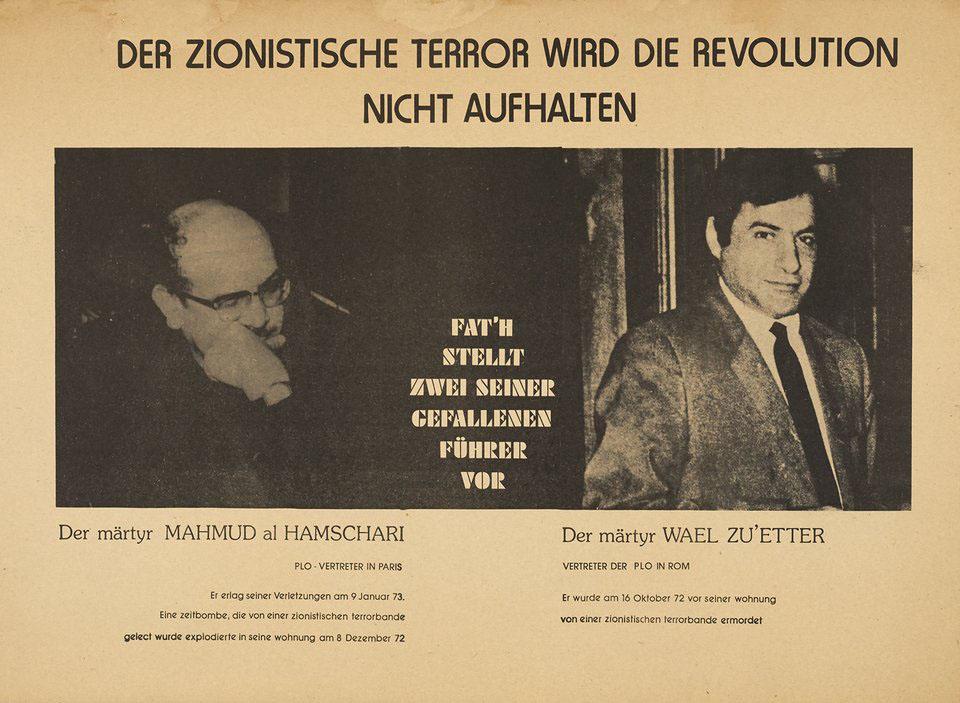 Translation / Interpretation / Caption Text
German translation:
(black text at top)
Zionist terror will not stop the revolution
(white text in middle)
Fatah announces the loss of two leaders
___________________________
Library of Congress access:
https://www.loc.gov/pictures/resource/yan.1a38743/?co=yan
__________________________
A French-language version of this poster may be viewed here
___________________________
The first assassination occurred on October 16, 1972, when Palestinian Wael Zwaiter was killed in Rome. Mossad agents had been waiting for him to return from dinner, and shot him twelve times. After the shooting, they were spirited away to a safe house. At the time Zwaiter was the PLO representative in Italy, and while Israel privately claimed he was a member of Black September and was involved in a failed plot against an El Al airliner, members of the PLO argued that he was in no way connected. Abu Iyad, deputy-chief of the PLO, stated that Zwaiter was "energetically" against terrorism.
The second target of Mossad was Mahmoud Hamshari, the PLO representative in France. Israel believed that he was the leader of Black September in France. Using an agent posing as an Italian journalist, Mossad lured him from his apartment in Paris to allow a demolition team to enter and install a bomb underneath a desk telephone. On December 8, 1972, the agent posing as a journalist phoned Hamshari's apartment and asked if he was speaking to Hamshari. After Hamshari identified himself, the agent signalled to other colleagues, who then sent a detonation signal down the telephone line, causing the bomb to explode. Hamshari was mortally wounded in the explosion, but managed to remain conscious long enough to tell detectives what had happened. Hamshari died in a hospital several weeks later. He had given an interview a day after the hostage crisis, saying he was not worried for his life, but did not want to "taunt the devil." Mossad did not comment on the fact that Hamsari was connected to the attack of Munich. This assassination was the first in a series of Mossad assassinations that took place in France.
Source:
https://en.wikipedia.org/wiki/Operation_Wrath_of_God#Other_assassinations
Artist / Designer / Photographer
Status / Acquisition Goals
The PPPA has only the low resolution digital version of this poster featured
The PPPA seeks more information on this artist/poster/graphic/publisher