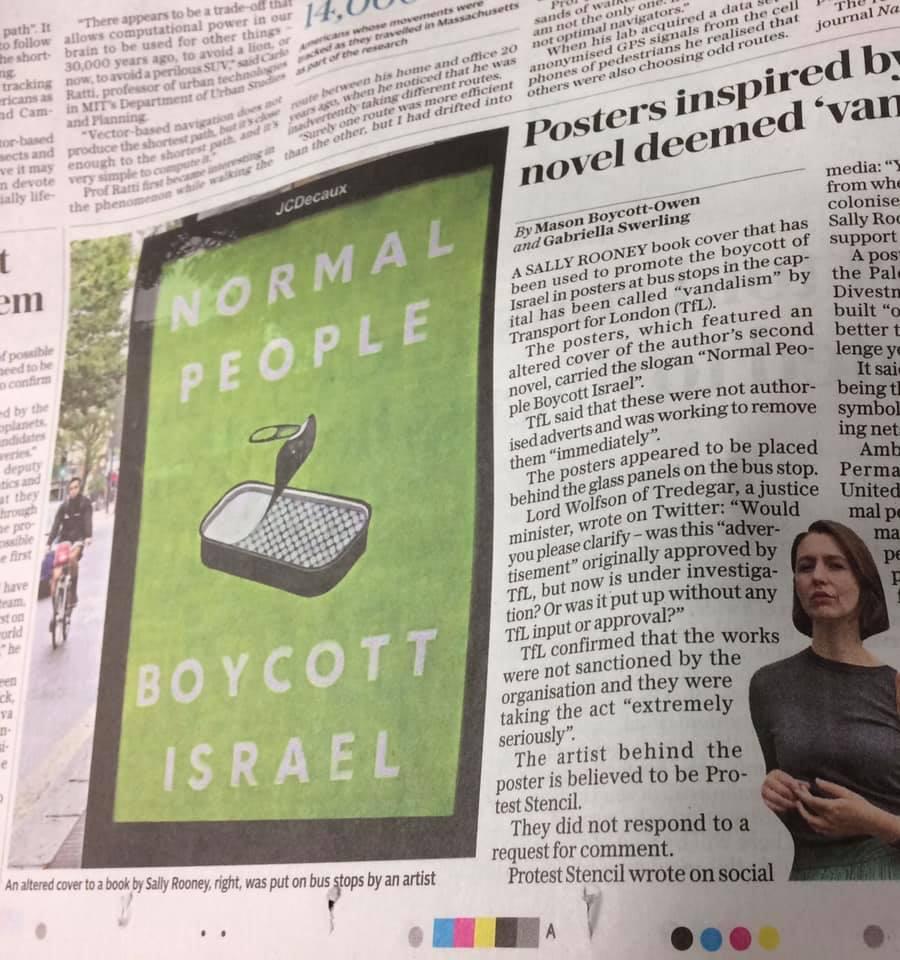 Translation / Interpretation / Caption Text
You can tell a lot about a person from whether their solidarity is with the coloniser or the colonised. Respect to Sally Rooney for her principled stand in support of Palestinians.
Around the world, Normal People - the colonised, the exploited, the marginalised - have an instinctive solidarity with Palestinians resisting the theft of their homeland.
Those with a colonial mindset, on the other hand, dismiss Palestinians and other racialised people as inherently lesser, uncultured, incapable of rational political thought. All arguments against the Palestinian strategy of Boycott, Divestment and Sanctions (BDS) are built on that shaky base, the 'We know better than you how you should challenge your oppression'.
Source: Protest Stencil website
________________________
Anti-Israel posters based on Sally Rooney book cover to be removed
By Mason Boycott-Owen, Gabriella Swerling 
The Telegraph - Alternative cover of Normal People at London bus stops has been described as an 'act of vandalism' by Transport for London
Transport for London has confirmed that the posters were not authorised adverts and that it is working to remove them 'immediately'
A Sally Rooney book cover that has been used to promote the boycott of Israel on London bus stops has been called "vandalism" by Transport for London.
Artist / Designer / Photographer
Status / Acquisition Goals
The PPPA seeks a better JPEG of this poster
The PPPA has only the low resolution digital version of this poster featured